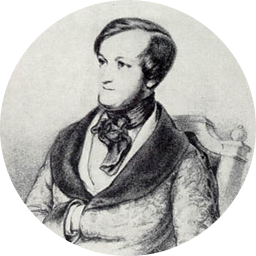 Wilhelm Richard Wagner (b.22 May 1813 in Leipzig—d. 13 February 1883 in Venice) was a German composer, music theoretician and essayist, mainly known by his operas. He was an opera reformer who had a seminal impact on music culture in Europe and particularly Germany.
Wagner's father, Karl Friedrich Wagner, was a state employee who died of fever during the French occupation. Influenced by his stepfather, actor Ludwig Geyer, Wagner began to study music under the cantor of the St Thomas Church, Theodor Weinlig and, starting in 1831, at the University of Leipzig.
From 1833 to 1842, Wagner travelled around Europe, being employed at various places. In Wirtzburg he worked as a theater choir master, in Magdeburg, Königsberg and Riga he was the conductor at musical theaters and later pursued his conducting career also in Norway, London and Paris, where he wrote the Faust overture and the opera The Flying Dutchman. In Königsberg he married actress Minna Planer and together they went to Riga. The triumphal premiere of the opera Rienzi in Dresden in 1842 made Wagner famous. A year later he became the court chapel master in the Kingdom of Saxony. In 1849 he took part in the May Uprising in Dresden and, after the uprising was put down, escaped to Zurich where he wrote the libretto for the tetralogy of Der Ring des Nibelungen, music for its first two parts and the opera Tristan und Isolde. In 1858, Wagner made short trips to Venice, Luzerne, Vienna, Paris and Berlin.
In 1864, having earned the goodwill of the King of Bavaria, Ludwig II, who paid Wagner's debts and proceeded to support him, the composer moved to Munich where he wrote the comic opera Die Meistersinger von Nürnberg and the concluding two parts of the Ring: Siegfried and Götterdämmerung. In 1872 in Bayreuth, the foundation stone of the Festspielhaus was laid, and the house opened in 1876. Here, the premiere of Der Ring des Nibelungs took place. In 1882 the opera mystery Parsifal was staged. That same year, as his health took a turn for the worse, Wagner went to Venice where, in 1883, he died of a heart attack.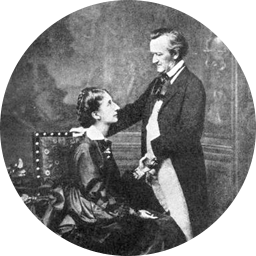 From August 1837 to July 1839, Wagner worked as the chief conductor at the City Theater in Riga. In this period Wagner's political views were not yet fully formed. His youthful sympathies for the Poles and the hymn "Nikolai" (1837) written for the czar's coronation attest to inconsistencies in Wagner's political views. Apparently, he even said that he had tried to bestow an extremely despotic and patriarchal character to the song – suggesting that he had tried to offer a kind of apology for his previously declared views.
Altogether he conducted twenty concert-stagings, including Vincenzo Bellini's I Capuleti e I Montecchi, Mozart's Die Zauberflöte and Beethoven's Fidelio. The beginning of really creative work was Bellini's Norma, also staged in this period. In Wagner's time most of the repertoire was devoted to Gluck, Mozart, Cherubini, and Spontini. The theater was opened with Carl Blum's opera Marie, Max und Michel, which testifies to the broad view Wagner took of the music world. In Riga, Wagner began work on his opera Rienzi, but he was not satisfied with the local public. In order to improve his financial situation, he periodically arranged for symphony concerts at the Blackheads House, yet the income only rarely justified his hopes. In Riga, the tradition was born to have regular Wagner opera performances, and that had a powerful cultural effect. Of particular importance were the activities of the Wagner Society, headed by Carl Friedrich Glasenapp.
Life in Königsberg and Riga had a powerful effect on the composition of Rienzi, even though at the beginning Wagner was convinced that it would be a failure. As for the impact Wagner's stint in Riga left on music, Rienzi and its contents come into play, because it is a true Riga opera where the plot related to Wagner's own experiences. The idea for the libretto arose already in 1837 in Dresden, where he got acquainted with an eponymous novel by Bulwer-Lytton; the libretto was developed in Jelgava (Mitau). Composition of the music began immediately. It can be seen from Wagner's biography how far reaching the opera was in his mind, as he thought about its staging in Paris. It can therefore be said that it already contained the germ of its success.
The first act was composed in 1839 in Riga and the second six months later in Paris, whereas the last three were created after a long time in Paris in 1840. In terms of the plot, Rienzi is a hero, a tribune who wants to free Romans from tyrants and establish a free republic (historically, it referred to the period of Italian city-states). Yet his idealism could not overcome reality; the crowd preferred entertainment and they failed to follow him. The ending is tragic. In Paris, the opera gained recognition only in 1869. The character of Rienzi contains deep parallels with the composer's own feelings during his stay in what would one day become the capital of Latvia, but just as everything else in history, these are only speculations. The Riga period was important for the development of Wagner's talent, the formation of his views and his creative quest.
Musically, Wagner could not be said to have found his own path in Rienzi, which was certainly surpassed by his next work, Der fliegende Holländer. Rienzi is a big five-act opera. The historically revolutionary plot, involving the fight of the Romans against their feudal overlords, was presented as a pompous spectacle with exaggerated theatricality and musically resembling Spontini's big operas in terms of external effects: a magnificent spectacle, an overabundance of crowd scenes, a ballet sequence in the second act and a fire at the end of the opera – all of these are motifs in the style of the "grand operas" of Meyerbeer and Spontini.
Later, Wagner turned away from the Meyerbeer influence, as is obvious in his treatise The Opera and Drama, where he remarked that in that kind of opera, music, which should be a means of expression, is just a motif, and drama, which should be the goal, is just a means. As a result, opera is just a series of arias and duets that split the drama into tiny pieces and there are many pointless melodies. Rienzi is banal in many ways, there is much uniformity and many unjustified moves.
Yet it can be concluded about the Riga period that the practical work at the theater had a positive impact on the amplification of Wagner's creativity. He became experienced as a conductor and became one of the best. He also had a chance to get acquainted with the provincial musical scene, which was in fact more progressive than he believed. After all, Rienzi was conceived in Riga. He developed his interest in historical plots and showed great understanding of them.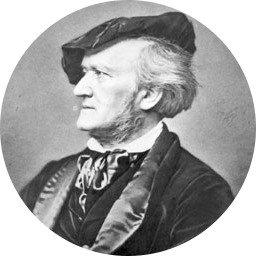 In Riga, Wagner was the chief conductor of the City Theater from August 1837 to July 1839. He started work on his opera Rienzi but was unhappy with the local public and had court proceedings started against him for previous debts. In order to improve his financial standing, Wagner arranged for concerts at the Blackheads House, but the income only rarely was what he hoped for and creditors continued to go after him.
When the tenor Hoffmann, from St Petersburg, was hired as director of the City Theater in Riga in 1838, he fired Wagner because of his debts, which put an end to his Riga sojourn. Wagner was too negative on the possibility of serious composing in the provinces. Even before he developed conflicts with his creditors about the repayment of his debts, he was convinced that there was no possibility of staging a big opera like Rienzi in Riga.
Despite his overall dislike of the Riga musical scene, in his book My Life, Wagner has positive things to say about it. His attitude was also expressed in the architecture of the Bayreuth theater, which resembles the theater in Riga. Riga also seemed to have inspired Wagner's use of mythological characters in his operas and other works, including, for instance, The Cross by the Baltic Sea where such pagan deities as Pīkols, Pērkons and Potrimps appear. At this time, German newspapers showed active interest in meetings of historical research and the meeting of the Courland Literature and Art Society, which might have had an impact on Wagner's interest in history.